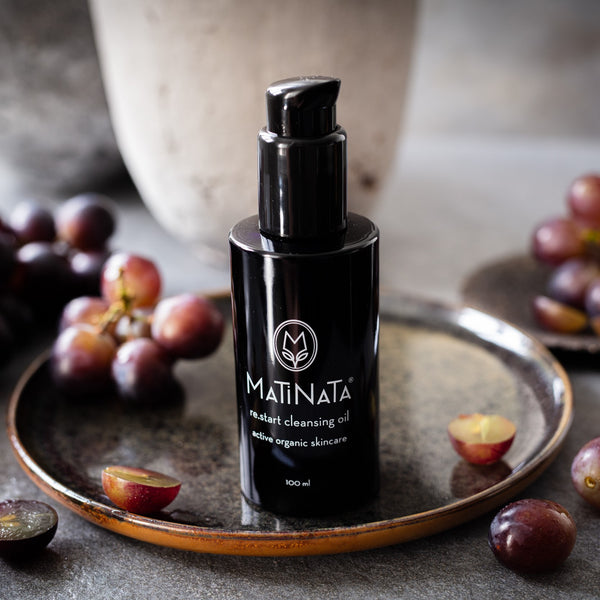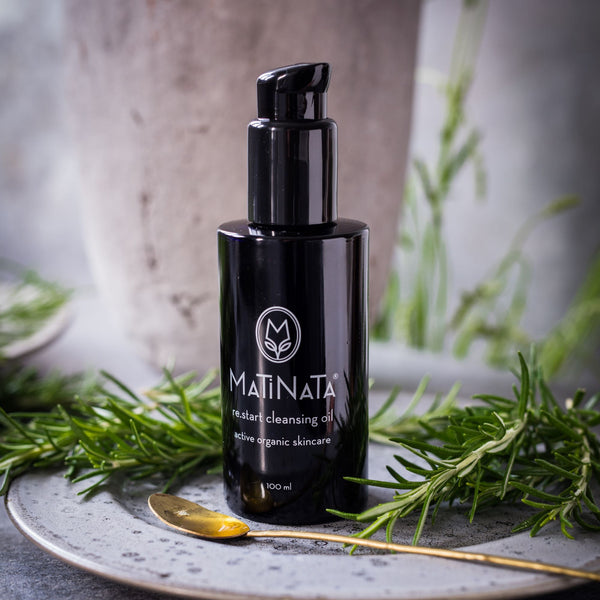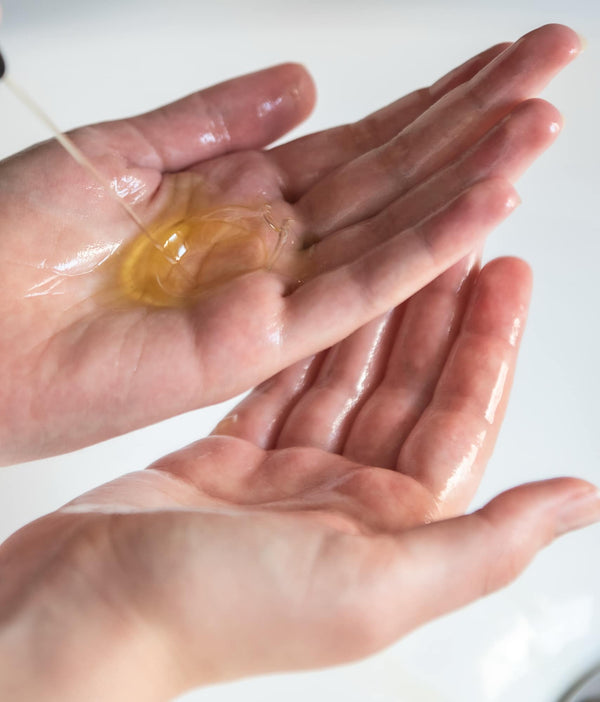 re.start cleansing oil is a gentle oil-to-milk formula that harnesses the potency of pure plant oils and antioxidants. It effortlessly removes makeup, impurities and SPF, leaving your skin soft, soothed and balanced.
The plant oils in our formula are selected for their balanced fatty acid composition and ability to support the skin's barrier function.
Formulated without harsh sulfates, soap base, detergents that can strip natural skin lipids, causing imbalance and harm to the natural skin barrier.
Texture: silky, smoothly gliding oil
Scent: creamy, warm and cosy blend with Sandalwood, Lavender and Ylang-Ylang
Key ingredients
• Anti-inflammatory Passionfruit Seed Oil
• Anti-oxidant rich Watermelon Seed Oil
• Lightweight Grapeseed Oil with regenerating and sebum-regulating properties
• Vitamin E that effectively neutralizes free radicals
How to use + Tips
1. Take 2-3 pumps of re.start cleansing oil in your palm, warm it up and gently massage it into dry skin. Start with the cheeks, then around the nose, mouth and jawline, avoiding the eye area.
2. Add some lukewarm water in your hands and gently massage it in circular motions. The oil will turn into a milky emulsion that dissolves makeup and impurities.
3. Rinse your face with lukewarm water and pat dry.
4. Avoid direct contact with the eyes. If contact occurs, rinse with water.

Bonus Tip:
• We highly recommend a cleansing ritual with a hot cloth. Take a few extra minutes to massage the cleansing oil into your skin and feel the stress of the day melt away.
• Place a hot cloth on your face, enjoy the warmth and breathe in the soothing, mood-lifting scent.
• This opens the pores of the skin. The facial skin then absorbs the beneficial effects of the therapeutic organic oils.
• Remove the cleanser with a warm, damp towel and give the skin a gentle exfoliation.
• Finally, splash it with cool water.

Full Ingredients List / INCI
Prunus Armeniaca (Apricot) Kernel Oil */**, Simmondsia Chinensis (Jojoba) Seed Oil */**, Caprylic/Capric Triglyceride *, Helianthus Annuus (Sunflower) Seed Oil */**, Polyglyceryl-4 Oleate *, Passiflora Edulis (Passionfruit) Seed Oil */**, Citrullus Lanatus (Watermelon) Seed Oil */**, Vitis Vinifera (Grape) Seed Oil */**, Citrus Aurantium Dulcis (Sweet Orange) Peel Oil */**, Lavandula Angustifolia (Lavender) Oil */**, Tocopherol*, Rosmarinus Officinalis (Rosemary) Leaf Extract*/**, Styrax Benzoin Resin Extract */**, Cananga Odorata (Ylang Ylang)Flower Oil */**, Santalum Album (Sandalwood) Oil *, Limonene***, Linalool***

* Ingredients from natural origin ( 100,0 %)
** Ingredients from organic agricultural source ( 69,7 %)
*** Components from natural essential oils
Featured ingredients
Learn more about each ingredient in our Nature's pharmacy