Ritual for Dry Skin
Whatever the cause for your dry skin - ageing, genetic predisposition, or drying environmental factors - dry skin calls for skincare products that moisturise, restore lipids and repair the skin's barrier.

We have selected natural ingredients that hydrate the skin, natural oils and butters with essential fatty acids that protect from moisture loss, complemented by natural antioxidants. Antioxidants protect the skin from harmful free radicals, stimulate cell repair and collagen production and prevent wrinkles.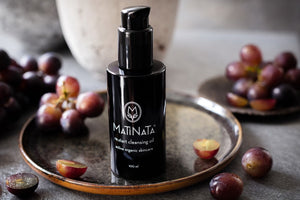 1. Every ritual starts with cleansing
In the evening: apply 2-3 pumps of re.start cleansing oil on dry skin. Massage it in. Wet your hands and continue massaging your face until milky liquid forms. Then rinse it off with lukewarm water. You can also use the face towel method - soak a face towel in warm water, wring it out and wipe off the dirt. Finally, splash your face with cold water and pat dry.

In the morning, we recommend skipping your morning cleansing routine. Instead, rinse your skin with lukewarm water and a few splashes of cold water to promote microcirculation.
shop re.start cleansing oil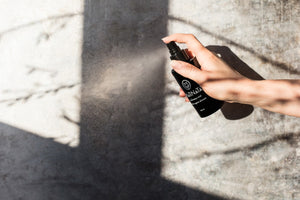 2. Misting binds all together
Complete your cleansing ritual by soaking your skin with re.breezy mist. There is a WHY for this step - the mist improves penetration and absorption of all nutrients from serums and creams. Also, thanks to the content of biocompatible moisturising ingredients, it provides a light layer of moisture that prevents dehydration and excessive oil production.

2-3 sprays all over the face are your instant freshness and moisture boost. Use both morning and evening, whenever!

shop re.breezy mist
3. Moisturized skin is happy skin
In the morning, while the skin is still damp, take 2 drops of re.water serum, massage it in and press it into the skin. Then apply a pea-sized amount of re.vamp complete active moisturiser to the face, neck and décolleté and massage it in - always from the bottom up.

In the evening, mix 2 drops of re.water serum and 3-4 drops of re.glow oil serum in the palm of your hand and massage them into the skin using upward movements. Close your eyes and breathe in the serenity of the pure essential oils.
Do not forget the neck and décolleté.
shop re.glow oil serum
0. Beyond skin surface
Transepidermal water loss (TEWL) is the constant and subtle evaporation of water from the top layer of our epidermis. TEWL reflects the health of the skin barrier. Lipids in the upper layers of the skin are necessary to maintain the required amount of water in the skin. Linoleic acid, in particular, plays an important role in the synthesis of barrier lipids.

Drink enough water. A balanced diet benefits your whole body and your skin. In particular, foods rich in omega-3 fatty acids help improve the lipid barrier. Also, humidify the air during the winter months. Avoid too much coffee and diuretics, which can promote dehydration. Finally, pay attention to a balanced sleep rhythm - it is not called beauty sleep for nothing.
Products to include in your skincare