Powered by Nature. Approved by Science.
Nothing is more empowering than feeling good in your skin. It starts with knowing and accepting who you are. That's what beauty is all about.

We create skincare products that actively support your skin's natural functions helping you feel more confident in your skin. Our curated skincare collection harnesses the power of the purest botanical ingredients to deliver results you can see and feel.

Matinata combines the best of both worlds - nature and science. A smartly created skincare product is more than just a list of ingredients. Instead, it's a carefully developed formula that uses ingredients in concentrations proven to work. This is how skincare should be made.
Explore Matinata products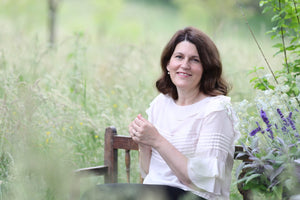 A word from the founder
I wanted skincare with integrity, from ingredients to formulations to the entire supply chain. After all, feeling good in your skin is much more than just having flawless skin. - Ivanka
Our story
Alchemy of skincare ritual
Yes, beautiful skin comes from consistency. More than just cleansing, toning and moisturising, let these moments of intentional touch nourish your skin and pamper your soul. Just be present and be yourself.
Matinata rituals
Yes
• In-depth knowledge behind each formula
• Natural & organic
• Naturally derived active ingredients
• Preservatives acceptable in natural cosmetics
• Packaging with minimal environmental impact
• People and animal welfare

No
• False promises
• Synthetic fragrances
• Parabens and phenoxyethanol
• Petrochemicals
• PEGs and harsh sulphates.
• Silicones and fillers

This is THE deodorant for me! After a long search for a natural deodorant, I found Matinata.This is the only natural deodorant that works. I want to add that I especially like that it does NOT contain baking soda because my skin reacts badly to such deodorants in the summer months. Great product!
Janja
re.glow serum is a miracle. Every time I apply it to my skin, I think I took a few years off my face.
Marija
I combine re.vamp cream with re.glow oil serum (I mix a little cream and a few drops of the serum). After applying a mixture of these two products, I use liquid foundation or mineral powder. This cream is excellent daycare for me. It nourishes my face and neck, and my skin feels comfortable throughout the day.
Mia
Matinata's oil serum became the highlight of my evening care ritual. The oil selection works well on my combination skin without making me wake up feeling uncomfortably oily. I use it either right after the cleanser or after the hydrating serum, depending on how much time I have for my routine. My skin became smoother and more even, with a velvety touch - something I wouldn't have expected from oils before.
Bernadett
The best hyaluronic serum I have tried. Hydrates the skin exceptionally well without the sticky effect that is common with this type of serums. In addition to hydration, it gives the skin freshness and youthfulness.
Ana
The first real test was 12 hours of work in the operating room under a lead apron; the result - no unpleasant smell! Not even after a day-long hike or frequent long car rides. My sincere recommendation!
Petar