Our story
The philosophy behind Matinata is uncomplicated - we provide naturally pure and active care for your skin through thoughtfully formulated products that support your skin's health and respect the planet we live on. Our certified formulas combine the best of two worlds - nature and science - creating a new connection with your skin.

Matinata translates to "Mother Nature," which is at the heart of everything we do. Nature loves just as a mother, tenderly and deeply, but only if we allow her to.

Born out of our founder's passionate idea of skincare without compromise, Matinata's commitment to ingredient purity, proven efficacy, and delightful sensory is the backbone of our product development. Staying true to our roots, we use only natural, vegan, cruelty-free and sustainably sourced ingredients.

We believe that less is more when it comes to skincare and that it should not distort the way we view ourselves and our skin.

Matinata is all about embracing the beauty of aging, naturally and gracefully. Aging is a privilege - every line on your face reflects the journey of your life, from the peaks of happiness to the valleys of trials and tribulations. And we are here to help you love the skin you are in, with great pride by offering products that provide your skin exactly what it needs -not more, not less.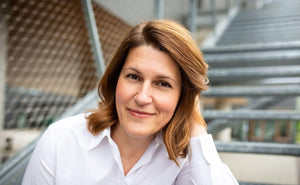 about me
Like every woman on this planet, I have played (and still do) so many roles. I am a woman, mother of two, wife and an engineer with a challenging life bucket list.
What led me into the world of natural skincare and phytopharmacy was my search for better life choices after facing severe illness. I came in wearing a black suit that I had worn for many years in the corporate world. I traded it in for a lab coat and began studying the biology of the skin and natural skincare formulations.
There is something profoundly wrong with messages telling us that something about us is unattractive and therefore needs to be corrected and that as we age, we have to fight against it. Yet the skincare arena is still knowingly full of synthetic ingredients that have controversies linked to certain health problems. There is no single reason for any of those to be used in your skincare.
I wanted skincare with integrity, from ingredients to formulations to the entire supply chain. After all, feeling good in your skin is much more than just having flawless skin. Staying true to my core beliefs is what drives Matinata.